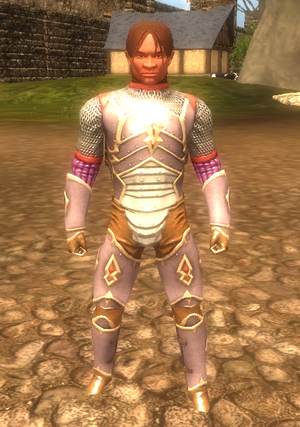 DescriptionEdit
A frumpy man in resplendent armor who hates elves. 
Neutral:

Kill 7 Sewer Rats
Clear out the Graveyard- Kill 7 skeletal archers

Comfortable:

Talking Mantises- Kill 7 Augmented Mantis Slaves
Sir Coth's Obsession- Talk to Rita

Rewards: Sir Coth's Discarded Gift
Area:

​Just outside Serbule on the main road.
Favor RewardsEdit
Comfortable: Allows you to sell Art to him.
Gift PreferencesEdit
Loves All Art
Loves Flawless Animal Skins
60 minutes- Polish Sir Coth's Armor:

10 favor
200 Armor Patching XP
3 Good Armor Patch Kit

60 minutes- Talk about Rita with Sir Coth:
Vendor ServicesEdit
At high favor levels: